NMW 2013: 'Extraordinary manufacturing showcase'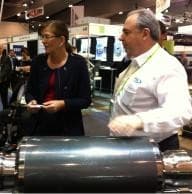 Minister Assisting for Industry and Innovation Senator Kate Lundy, has opened this year's National Manufacturing Week (NMW 2013) and Austech, describing the event as an "extraordinary showcase" for Australian manufacturing.
Senator Lundy said NMW 2013 and Austech were key indicators of manufacturing's $4.8bn annual R&D investment – a quarter of Australia's total investment – which she described as in "key to reviving industry on the world stage."
"It's key to survival for manufacturing as it adapts to the most significant structural change," said Senator Lundy, describing the challenges manufacturers face adapting to shifting market conditions and with the continued strength of the $A dollar.
"The Gillard Labor Government is committed to our manufacturing industries and appreciates their importance in a globally competitive, broad based and sustainable Australian economy," Senator Lundy said.
Co-located with Austech, National Manufacturing Week (NMW) is Australia's leading integrated industry event, bringing together more than 300 exhibitors over four days. When last held in Melbourne, in 2011, NMW attracted well over 10,000 visitors, and attendance this year is expected to be equally strong.
Event organiser, Reed Exhibitions says in addition to funding R&D, manufacturing is intensifying its investment in new technologies.
Australian industry invests $10bn each year in plant and equipment to streamline operations or enable new capabilities.
Exhibition Director Paul Baker said: "Last December, we surveyed 400 manufacturing industry personnel – and their consistent feedback was that they see technological innovation as a source of growth. Around half - 49.6 percent of those surveyed – will be making moderate or larger capital investments this year to support their growth strategies."
New solutions available at NMW 2013 include:
Innovative Welding – will introduce K-TIG, which increases welding speeds by up 100x
Zhenfa Australia – will showcase capabilities including over 1GW of energy-efficient systems for manufacturers with high energy needs
Adept Turnkey will unveil 'world's best' 3D cameras that enable automated inspection in high-tech manufacturing situations
NMW 2013 runs until May 10 at the Melbourne Convention and Exhibition Centre. Registration for the event is free, and available onsite or at nationalmanufacturingweek.com.au.