NILFISK WALK-BEHIND SWEEPER A QUIET ACHIEVER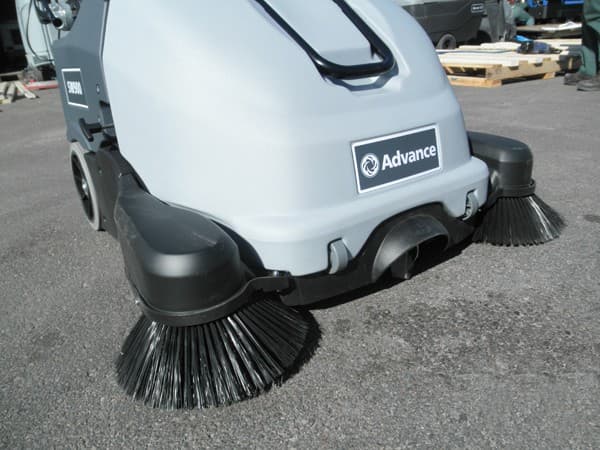 With an operating sound level of only 70 dB(A), the ergonomically designed Nilfisk SW900 walk-behind sweeper is versatile, environmentally friendly and easy to use.
Designed for indoor/outdoor use, the SW900 combines indoor carpet and tile cleaning with dust free outdoor sweeping and the ability to sweep through puddles. Non-marking wheels and skirts ensure your investment in valuable floor surfaces is protected. The 600mm main broom sweeping path is increased to 1050 mm with both side brooms engaged.
Continuing Nilfisk's tradition of one-touch products, the control panel is within arms-reach, the side broom control is located on the adjustable handle and all brooms and filters can be replaced without tools. The vacuum and brooms automatically operate when lowered, and deactivate when raised.
The unique hopper system enables the 60L hopper to be on wheels within seconds for safe transportation to the place of disposal then back into service just as quickly.
The 12V battery operated SW900 has an on-board charger, hour level meter and battery level indicator. This means the operator can keep track of service needs and running time to enhance productivity.
The onboard filter shaker system aids hygiene and productivity by removing the need for the operator to touch the filter.
With the quality and maneuverability you expect from Nilfisk, the SW900 is ideal for warehouses, factory floors with multiple surfaces and manufacturing.
Contact Nilfisk-Advance to arrange a demonstration.
Nilfisk-Advance
Ph: 1300 556 710