Nilfisk unveils new hybrid combination machine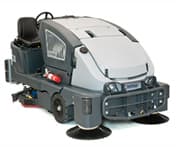 The Nilfisk CS7000 represents a unique new era in indoor and outdoor ride-on combination machines technology.
It is the first real Hybrid and battery driven combination scrubber-sweeper.
The CS7000 is greener, cleaner and cost-effective.
Nilfisk's unique Hybrid system provides up to 45 percent less fuel consumption, which means lower running costs.
Most importantly, the Nilfisk CS7000 reduces emission. It is available with ePower technology for total emission-free indoor operation.
The Hybrid provides industrial scale cleaning and is suitable for floor cleaning in warehouses, distribution centers, manufacturing plants, parking lots and ramps, food and beverage, transportation facilities, stadiums and arenas and more.
The combination sweeper-scrubber is available in three models – LPG-Hybrid, Diesel-Hybrid and ePower Battery. 
The CS7000 uses electric hybrid technology where the engine drives a large alternator at varying engine speeds to generate electricity. 
A 36V battery package provides energy storage and buffer at peak loads, also giving the possibility to work only on batteries mode for a period of time. 
Another innovative feature is the elimination of large hydraulic reservoirs, filters and oil coolers as well as 98 percent of the leak-prone hydraulic hoses, pumps, motors and valves. These hydraulic functions are replaced by an intelligent system of electronically-controlled electric drives resulting in fewer components, less complexity and lower maintenance costs.
It is easy to operate and simple to maintain with one-touch controls and no-tools access.
An innovative dustguard system reduces airborne dust by 85 percent, which means less dust is left on the floor and in the air.
The Nilfisk CS7000 is not only the most economical solution, it is also the most ecological.