NILFISK DISHES UP INNOVATIVE CLEANING SOLUTIONS FOR FOOD INDUSTRY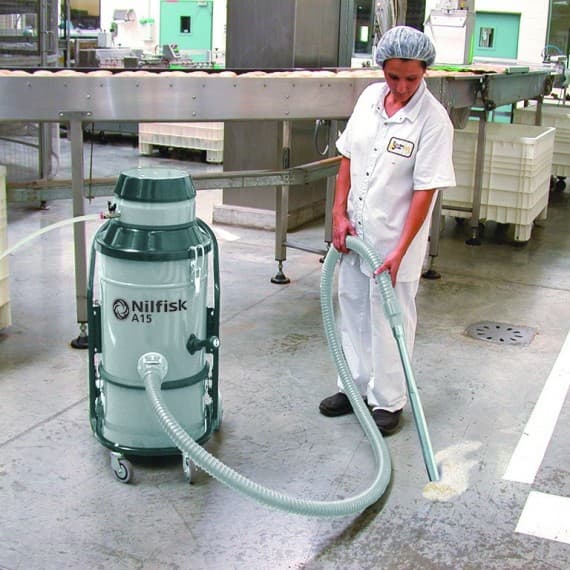 Nilfisk offers a complete range of industrial vacuum solutions, from high power vacuums and centralised systems to pneumatic conveyors.
All are designed and built for Australian conditions, so whether you need to remove build up of product or spillages to avoid contamination, prevent insect infestation or overhead dust build up, there is a Nilfisk industrial vacuum to suit.
Nilfisk offers literally hundreds of machine variants, with thousands of options, from HEPA filtration, industry certified L, H or M class dust collection or explosion risk minimisation, there is a Nilfisk solution available.
Nilfisk industrial vacuums can be tailored to site requirements – whether overhead cleaning, hot oven cleaning for bakeries, large capacity waste storage and removal, hazardous, explosive dust (sugars or grains) or liquid removal, there is a Nilfisk solution. Nilfisk products are designed in line with GMP, are ATEX certified for Zone 21 and Zone 22 and selected products also hold IECEx certification.
The Nilfisk range of industrial vacuums starts with a portable, light 1kW vacuum, built in stainless steel with HEPA filtration for hazardous waste.
When food manufacture requires trimmings or small volumes of dust to be reclaimed, the Nilfisk compact range of three-phase vacuums are ideal to be integrated into food process lines. Extremely easy to clean and sanitize these vacuums are compact, portable and quiet to operate.
Nilfisk Industrial Vacuums feature innovations ranging from LongopacTM continuous waste disposal bags, XtremeCleanTM push and clean filter systems to InfiniCleanTM for automatic filter cleaning of any type of dust.
Nilfisk offers a site audit service to qualifying customers. Nilfisk professionals can assess site requirements, make suggestions and tailor solutions to make production sites cleaner, safer and more efficient.
Nilfisk
Ph: 1300 556 710