Nilfisk's ultimate cleaning machine
31-08-2010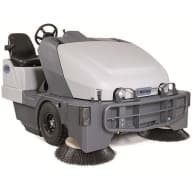 The Nilfisk SW8000 puts you in the driver's seat of the most advanced and innovative industrial class ride-on sweepers.
The main broom 1.3m sweeping path provides better performance and faster cleaning.
With side brooms the new SW8000 boasts a total sweeping path of 2m wide.
This means you can more easily and efficiently sweep and clean large areas, such as parking lots, warehouses and factory floors.
With an innovative DustGuard misting system the Nilfisk SW8000 lets you efficiently control dust on the way to creating a cleaner workplace environment.
DustGuard's unique misting nozzles spray a fine fog of moisture to the front and side brooms, effectively controlling airborne dust.
The Nilfisk SW8000 provides operators with a large, ergonomically designed compartment with ClearView visibility for extra safety. One-Touch control and a clear view of the working zone give a better cleaning result with greater safety.
Strong polyethylene covers offer high driving protection and help to absorb bumps.
And because the Nilfisk SW8000 is easy for operators to control, it means less fatigue.
Key features include:
2m working width with two side brooms
An UltraWeb dust filter that captures even microscopic particles and is cleaned automatically
A Nilfisk No-Tools system, making service easy
High dump capability up to 152cm from ground level for easy and convenient emptying
Rust free polythylene covers providing excellent machine protection
The Nilfisk SW8000 is designed with attention to detail ensuring better performance, reliability and a lower total cost of cleaning.