NHP launches new iPhone App
31-08-2010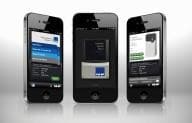 Easy does it … NHP's new iPhone App
NHP has introduced a new iPhone App which makes selecting Variable Speed Drives (VSD) easier than ever.
By simply selecting the application, kW/Amps, IP rating and duty rating that you require, the VSD Selector App will instantly select the most appropriate Variable Speed Drive for your application.
Going one step further, the VSD Selector App can also provide you with the exact model number of the drive you require, display a photo of the drive and keypad/cart details.
The App also gives you easy access to NHP's sales phone number and website. And there's an option to select accessories related to your Variable Speed Drive selection, which you can then send via email to your own inbox or to NHP, direct from the App.   
The free App can be downloaded from the iTunes store by simply searching for NHP.
NHP Electrical Engineering Pty Ltd
Ph: 03 9429 2999