NHP inducted into Hall of Fame
31-08-2010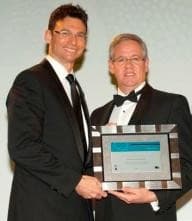 NHP Electrical Engineering Products (NHP) has been inducted into the prestigious Victorian Manufacturing Hall of Fame.
The VIC Minister for Manufacturing Exports and Trade, Richard Dalla-Riva, made the announcement at the recent 2012 Victorian Manufacturing Hall of Fame Awards – a ceremony that brought together over 600 industry leaders.
Established in 2001, the Victorian Manufacturing Hall of Fame offers an opportunity to recognise companies and individuals who have the dedication, creativity and energy to take Victorian manufacturing to the next level. 
Companies that display a sustained contribution to manufacturing excellence over the past five years are eligible for induction into the Victorian Manufacturing Hall of Fame.
Mr Alex Coslovich, NHP's Director - Product Quality, Engineering & Manufacturing, accepted the award on behalf of NHP.
"We are honoured to be inducted," said Alex. "Australian manufacturing is facing some of its toughest challenges in the current economic climate and we feel that our business model allows us to create jobs within this sector and genuinely "add value" to locally assembled products. It is NHP's objective to continue to cultivate this philosophy and this will allow us to remain competitive well into the future," he said.
NHP Electrical Engineering Pty Ltd
Ph: 03 9429 2999