NHP's new high-performance circuit breakers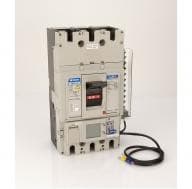 Terasaki's innovative XOW series of moulded case circuit breakers forms part of the new extended TemBreak 2 range from NHP. 
The XOW combines energy metering functionality with high-performance overcurrent protection in one compact unit. 
The built in LCD screen displays metered variables such as maximum phase current, power factor and power demand. CTs and VTs are integrated, thus removing the need for additional wiring and complexity.
Modbus communications allows this information to be accessed by an optional external meter or a higher SCADA system, enabling overall energy usage to easily be monitored. The XOW's electronic trip units offer fully adjustable LSI protection for high selectivity. 
Advanced protection functions such as ground fault, neutral phase protection and phase rotation are also available to suit multiple applications. 
The trip unit stores and displays information about the most recent trip event, including fault level and tripping time. This assists users in identifying the source of the fault and determining whether or not it is safe to reclose the breaker. 
The XOW series offers advanced functionality in a compact frame size, making it ideal for any distribution system where efficiency is a high priority. 
NHP Electrical Engineering Pty Ltd
Ph: 1300 647 647