THE NEXT STEP IN MEN'S AND WOMEN'S WORK BOOTS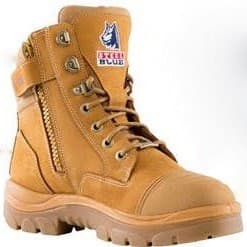 Steel Blue, Australia's leading supplier of work boots, continues to innovate and improve industry standards with three new releases, two composite toecap work boots for men and a scuff cap option for women's work boots.
Steel Blue was the first Australian safety boot manufacturer to utilise a composite toecap to create an airport-friendly range of work boots. This toecap is now available in the flagship Argyle Zip and the newer hiking-style Parkes Zip.
The Argyle Zip is popular with workers in mining, oil and gas, and construction. The Parkes Zip offers a lower ankle with a scalloped collar for ease of movement and is a top choice for those in transport, logistics and warehousing.
Both designs are entirely non-metallic and electrically non-conductive, insulate against heat and cold, and have a quick-release side zip for easy putting on and taking off and a scuff guard for extra protection in the toe area.
"Our innovative thinking has improved the industry standards for work boots," says Steel Blue Head of Manufacturing Dwayne Sewell. "As with our steel cap boots, the composite range prevents injuries from falling objects at a drop force of 200J and are best suited to sites where there's a risk of toe damage from falling or rolling objects."
The Southern Cross Zip for women has become an instant favourite, with a scalloped collar for ease of movement, a quick-release side zip, a 200J steel toecap and a great range of colours. It now comes with the choice of a scuff cap in black and wheat, providing longer-lasting boot protection.
"Our full range of ladies' boots are designed specifically for women with a shorter ankle length and smaller-step, says Steel Blue CEO Garry Johnson. "The ladies' Southern Cross is a versatile style and is suited for industries such as construction, mining and general trades."
All Steel Blue safety boots are endorsed by the Australian Physiotherapy Association.