NEXT GENERATION HOT MELT ADHESIVES FOR CASE AND CARTON SEALING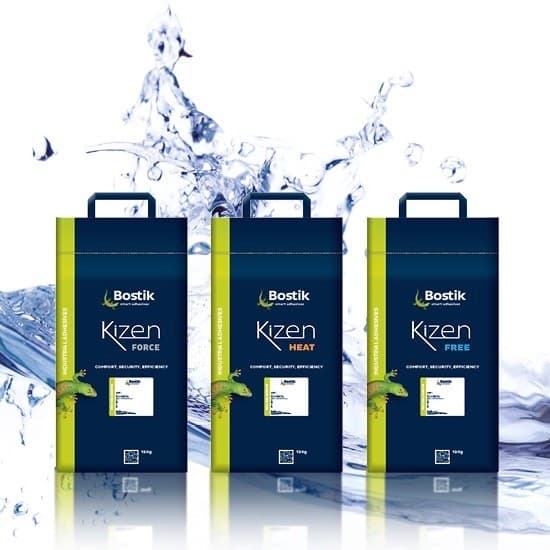 Bostik, a leading global adhesive specialist for the industrial, construction and consumer markets, released its next generation of hot melt adhesives for case and carton sealing.
The chosen brand name, Kizen, represents the fusion of Japanese words kai, meaning "change", and zen, meaning "better". Kizen is designed for ease of use and features strong bond performance, providing packaging manufacturers with comfort, security and efficiency to meet their specific requirements.
There are three products under the Kizen brand, which all feature fast set speed, broad processing window, good thermal stability and adhesion to difficult substrates. These advantages enable packaging plants to reduce downtime, consolidate stock keeping units, streamline production efficiencies and decrease overall packaging costs.
Kizen Heat, ideal for hot fill applications, possesses high heat resistance and is able to maintain performance in shipping conditions exposed to extreme temperatures. It has passed the IOPP Method T-3006 Heat Resistance Under Stress test and has been approved for use in applications of at least 71°C for 24 hours.
Kizen Force is an ideal end-of-line packaging solution due to its enhanced performance capabilities over current adhesive options, such as EVAs and metallocenes. It possesses outstanding thermal stability, aiding in low maintenance, char-free operations. With low viscosity and high specific adhesion, it bonds well to surfaces that are traditionally difficult to bond and offers ultra-precise drops.
Kizen Ice offers strong bonds at freezer temperatures and high adhesion to difficult substrates, such as highly recycled corrugated. It possesses tailored rheology, which facilitates ultra-precise application and clean cut-off. Its broad processing window allows it to work well across many production lines, enabling plants to consolidate adhesive SKUs.
Kizen is a product line in the consumer goods packaging range of Bostik's industrial adhesives business unit. All three products are now available in Australia, as well as Southeast Asia, China and Japan.
Bostik Australia
1800 267 845
www.bostik.com/australia/