Published 12-05-2020
| Article appears in April 2020 Issue
NEXT GEN MATRIX SERIES ACCELERATES AI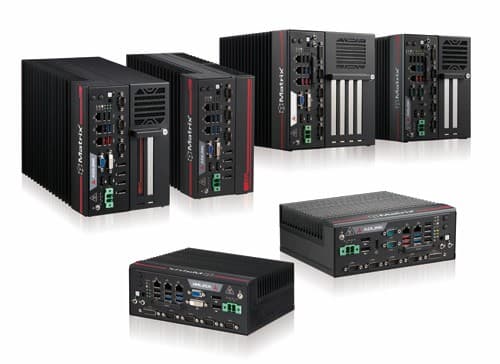 Edge computing leader ADLINK Technology has released the next generation of Matrix embedded computers.
Designed to enhance responsiveness and built to last, the next-gen Matrix series offers the raw power required to make possible timely, data-driven decision making across industries.
Responsiveness is taken to the next level by the Matrix's heterogeneous computing architecture. CPU computing based on 9th-gen Intel Xeon and Core processors and GPU computing from NVIDIA Quadro GPUs enables the Matrix series to perform a range of high-performance tasks.
Accelerate high-resolution medical imaging for faster diagnosis, detect product defects in quality assurance, process facial recognition for access control, track worker movements for hazard prevention, and other edge AI applications with ease.
A comprehensive I/O array collects sensor measurements, allowing data-drive actions to be made quickly.
"Time to decision and time to action are key to edge AI and any computing applications that require large amounts of memory, parallel computing and mixed-precision computation," says Zane Tsai, director of ADLINK's Platform Product Centre, Embedded Platform and Module Business Unit.
"The challenge for system architects is to define an optimised edge platform that can deliver these computing resources in ways that meet speed, cost and accuracy requirements."
Ruggedly designed for harsh edge environments, the next-gen Matrix series is housed in a fanless, compact stainless-steel chassis. An extended operating temperature range is made possible by thermal solution.
Whether you're operating amid poor ventilation, limited space, extreme temperatures, dusty or even corrosive conditions, the Matrix series can handle your high-end computing needs.
ADLINK Technology
www.adlinktech.com