NEWLYWEDS FOOD MANUFACTURER GETS BOOST
26-06-2017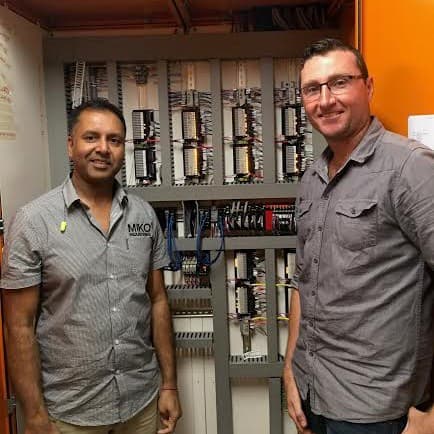 AJ Singh and Brett Jones with the new Sysmac system from Omron
Many Australians may not be familiar with the name Newly Weds Foods, but most of us have sampled its products.
Newly Weds Foods (Australia) is a joint venture between George Western foods in Australia and Newly Weds Foods in the USA. It's a global company specialising in Japanese Style Bread Crumbs (panko) plus a complete range of coatings, seasoning blends, marinades, premixes, batters and crumb to suit every application.
Established in the USA more than 80 years ago, Newly Weds Foods now boasts more than 25 manufacturing facilities globally and customers in over 68 countries around the world.
Newly Weds Foods has had a presence in Australia and New Zealand since 1983, with representation in Sydney, Brisbane, Melbourne, Perth, Auckland and Christchurch.
Its headquarters in western Sydney employs nearly 200 staff, including R&D experts, quality control and quality assurance specialists, IT and engineering professionals. Japanese Style Bread Crumbs remains Newly Weds Foods (Australia) signature product.
Ten years ago the company expanded its crumb manufacturing capabilities with the installation of an extruder in 2007. And traditional breadcrumb line in 2015.
"We are now the leading crumb manufacturer in Australia," says Newly Weds Foods Plant Engineering Manager Brett Jones.
"And the fluid bread dryer we use is one of the largest manufactured in Australia."
When it comes to technology, Newly Weds Foods is a company that likes to stay ahead of the curve. Late last year the company was exploring new ways to streamline its massive production, minimise downtime and visibility of its lines.
For a solution, it turned to Omron, a global leader in automation. At that time, Newly Weds Foods operations were not fully integrated, split up over multiple locations within the Sydney facility.
"That gave us very limited functionality in terms of automation," explains automation engineer AJ Singh, an expert consultant to Newly Weds Foods and principal of Miko Industries.
"At times there were four machines linked to each other using four different controllers – it was a real pain to control and manage," said Singh and Jones.
"One would stop and the others wouldn't go – it was a mess.
"We needed a centralised control unit to streamline all operations and visualisation."
Omron recommended its renowned NJ programmable logic controller (PLC) for the control of Newly Weds' entire manufacturing processes, including production lines & MCC. Omron NJ-Series machine controllers offer a complete machine control solution through one connection and one software. These automation controllers integrate logic, motion, vision, and networking in one unit.
They are programmed by Omron's all-in-one Sysmac Studio development environment. This single automation software suite integrates configuration, programming, simulation and monitoring of the Sysmac NJ-Series, as well as the EtherCAT machine network to control motion, vision, sensors and actuators.
The NJ Series controller is at the heart of the Sysmac platform. It is designed to meet extreme machine control requirements in terms of motion control speed and accuracy, communication, security and robustness.
"Now they all report back and all are connected by EtherNet," says Jones.
"It is much easier to operate – and we are able to see everything live on the screen and monitor how things are going," said Mr Jones.
So why choose Omron?
Brett Jones said Omron's availability and pricing was superior to other systems under consideration.
"And the support we received from the team at Omron was a lot better as well," he said.
"I cannot speak highly enough about Omron's support and the care they take to look after clients."
Jones, a qualified mechanical engineer, says the new system has made a huge difference to the company's operations.
The new system is of special benefit to the procurement team at Newly Weds Foods, he says. With live feedback from a PC they can look at silo levels and do the ordering of our raw materials.
"And our senior staff also get live feedback, so we can see everything that is happening."
Jones says the system is user friendly and requires little training. Key staff members at Newly Weds Foods gain access to the system via a portable tablet.
"Technicians can use the tablet to start the systems remotely using WiFi.
"With Omron's compact HMI (human machine interface) other staff members can then access the system to monitor everything that is going on."
Omron's Sysmac system communicates in real-time with databases such as SQL.
"We can send data via SQL to the server so we see instant results," Singh said. 
"We are now adding downtimes and uptimes to monitor line functioning and stoppages this gives me visibility and helps with KPI's," adds Jones
"So we are now able to monitor and log temperatures in our ovens/dryer using Omron's geographical interfaces - at any time."
Omron equipment is also assisting the company to improve its workplace safety. Their advanced systems protect workers at key locations on the factory floor.
"It is a very heavy load and by using Omron's safety system we have improved the process significantly.
"We have implemented an Omron laser scanner for the safety of operators and production staff that interfaces with the PLC – it works brilliantly with a visual aid."
Previously this process was carried out manually.  "The operator had to stand there with a finger on a button watching the hoist rise and then bringing it back down again.
"Now they simply press a button and walk away – it has not only improved productivity but also safety."
Since the new Omron system was installed the plant has experienced fewer breakdowns and stoppages.
"And downtime has been reduced drastically with the new integrated technology," Jones said.