NEW ZEALAND PORT EXPANDS MATERIALS HANDLING FLEET
26-07-2017
by
in
Materials Handling & Equipment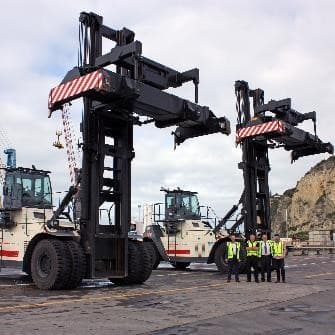 Expanding traffic at Napier Port on the North Island of New Zealand has seen the port authority turn to Konecranes to increase its materials handling fleet with six new vehicles.
The port has ordered two Liftace R 6-41 MS reach stackers, two Liftace FDC 25 K7 DB empty container handlers, and two Liftace FDC 480 G4 full container handlers. The new equipment is due for delivery in December 2017 and will join two FDC 480 G4 full container handlers that recently entered operation in the terminal.
According to Warren Young, Container Operations Manager at Napier Port: "Our port is the logistic turnstile of the entire region. Technology from Konecranes has been a key element of our sustainable growth strategy and we are currently operating six Konecranes Gottwald mobile harbour cranes, four of which were delivered over the last four years.
"As these machines have become an integral part of our operation, it was logical to also opt for lift trucks from Konecranes. We are sure that relying on equipment and aftermarket support from one single supplier will enhance the efficiency of our operations."
Konecranes
1300 937637
www.konecranes.com.au