New-year joy for Toyota Hilux
31-08-2010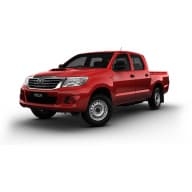 Australia's favourite ute Toyota HiLux has marked the new year in style by recording its 800,000th sale in this country.
Toyota's figures showed HiLux had clicked over to 799,738 sales on New Year's Day since the nameplate was introduced to Australia in 1971.
Toyota's executive director sales and marketing Tony Cramb said the final 262 vehicles needed to achieve the 800,000 milestone would have been sold early in the new year.
"Placed end to end in a straight line, those 800,000 vehicles would stretch further than Sydney to Perth, which is a great indication of how well HiLux is suited to Australian conditions," Mr Cramb said.
"Incredible loyalty from existing owners and constant take-up by new customers has resulted in tremendous sales success for HiLux - and it remains the best-selling vehicle of its type," he said.
HiLux has been Australia's leading commercial vehicle for the past 16 years in a row and the top-selling four-wheel drive vehicle for the past nine.
It is the only ute to have topped the monthly national sales charts - a feat it achieved twice last year - which helped it claim overall third place in 2013 with 39,931 sales.
"HiLux has built an enviable reputation for toughness and reliability over an extended period in Australia," Mr Cramb said.
"It has demonstrated the ability to thrive in some of our harshest environments, including in mines, on the land and as a popular rental vehicle.
"It is renowned and respected for being a rugged workhorse during the week - and for doubling as a spacious family vehicle for weekends and holidays," he said.
During the past 30 years, HiLux has averaged more than 24,000 sales a year, rising to 37,600 a year for the past decade and 39,000 a year over the past five years.