New Yale lift truck reaches new heights for operators
15-02-2010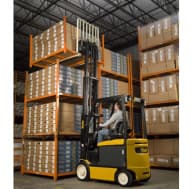 Yale's new MR reach truck pushes levels of productivity and dependability to new heights for warehouse operators.
At the same time costs have been squeezed to a minimum.
Redesigned from the ground up, the new MR reach truck, available from Nacco Materials Handling Group is unlike anything else on the market.
The MR was the subject of 55,000 hours of product development, including operation in the warehouses of some of the world's most demanding end users and a rigorous test cycle of over one million operations. Features include a new chassis, new mast design, new operator compartment and new control systems.
The new truck's best-in-class maximum travel speed of 14km/h and lift speed of 0.8m/sec, outstanding manoeuvrability and ease of use will help users achieve increased productivity.
A unique new design of mast channel offers faster lifting and lowering speeds and improved residual capacity while reducing mast deflection to a minimum. This allows smaller capacity trucks to be used for lift heights that would previously have required substantially larger and more expensive models.
And a wide access step and dedicated grab handles help operators enter and exit the truck smoothly.
Once inside the operator's compartment, the generous leg room, new high-quality fully adjustable full suspension seat (which reduces transmission of vibration from uneven floor conditions), adjustable armrest with integral mini-lever module and adjustable steering column all help operators to stay relaxed and comfortable.
The new MR also features a unique, optional touch screen display, which provides the operator with information on the truck's status from battery charge and direction of truck movement to mast position and load weight. This allows easy tailoring of the truck's operational performance characteristics.
Visibility from the operator's seat has also been enhanced, with the MR's unique new mast channels not only helping to increase residual capacities but providing better line of sight than ever before, both forwards and when looking up through the overhead guard. Operators will also appreciate the smooth, quiet transition of the mast sections.
Easy preventative maintenance has also been designed into the new MR, with long service intervals.
Component commonality across the Yale range and straightforward access to the major components helps to maintain maximum uptime and keeps servicing costs to a minimum.
Nacco Materials Handling Group Pty Ltd
Ph: 02 9795 3800