NEW YALE ELECTRIC FORKLIFTS DELIVER PERFORMANCE AND COMFORT
25-08-2016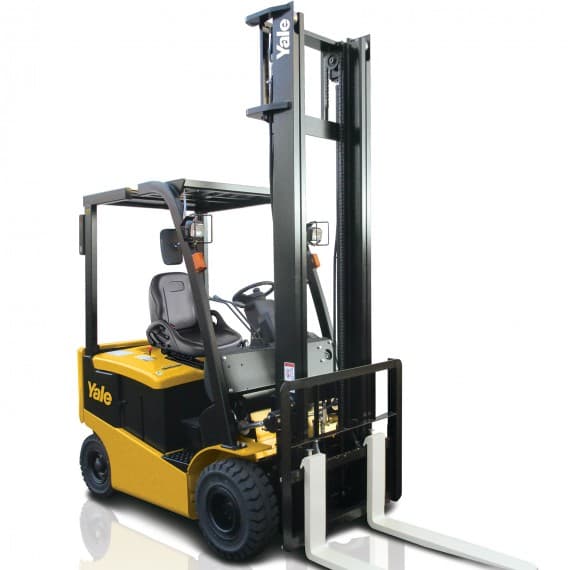 With the release of the new FB15-35RZ Series electric counterbalanced forklift truck, Yale is catering to both the forklift truck operator and warehouse manager, by providing exciting new performance and efficiency features, in a comfortable and easy-to-use package.
Yale knows that a forklift truck is an important business tool that can be critical to a company's overall performance – it's this realisation that sees the latest FB Series deliver a number of clever and efficient features.
Through the combination of a cornering speed control system dubbed 'Curve Assist' and a raised steer axle, the FB Series provides a stable driving environment. Curve Assist automatically reduces truck speed based on the load and steer angle it detects, providing more efficient operation.
All up, these features mean less work for the operators and provides them with extra confidence in fast-paced operating environments.
Also aiding handling is a standard synchronous steering function that ensures that the steering wheel always returns to the same ideal position for forward driving after a turn.
For extra efficiency and extended battery performance, the new forklift trucks feature regenerative braking, which harnesses energy during braking cycles and channels it to the battery. This coupled with the high quality battery provides operating life of up to 8.5 hours in standard performance mode and 9.5 hours in economy mode.
In order to sight and tackle loads more easily, the FB Series benefits from a mast design that provides a generous clearance between the hoist chains for greater visibility.

"The new FB Series provides a range of electric trucks that mirrors the conventional MX engine-powered models, while delivering the many benefits of electric operation," Ian said.
"A number of key components are shared between both model ranges, including a common drive axle and mast assembly, ensuring the new models will be durable and perform to customers' expectations and meet Yale's own high standards.
"This shared technology is complemented with some innovative features such as 'Curve Assist', regenerative braking and self-centre steering, the combination of which makes for a very well-rounded new product offering."   

For full details on the new FB15-35RZ Series, visit: yale.com.au or your local Yale Dealer.