New Victor range from Powerbox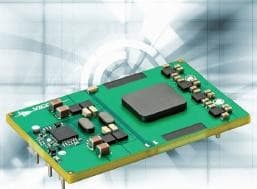 Powerbox has launched the Vicor's IBC054 Series of wide-input range VI BRICK Bus Converters on the Australian market.
Available as drop-in upgrades for industry standard 5:1 and 4:1 converters, these eighth and quarter bricks achieve up to 98 per cent efficiency from a 36V to 60V input voltage range at power levels from 300W up to 750W, with 2,250Vdc isolation from input to output.
The series of bus converters offers a transient surge capability of 75 Vin for 100 mS for Telecom, Power-over-Ethernet and other applications.
"Vicor's Sine Amplitude Converter technology enables wide input range operation, high efficiency and density bus converters in pin-compatible brick packages, says Robert Marchetti, Senior Manager of Product Marketing for Vicor's Brick Business Unit. "Designers can now select from a broader range of products for their specific applications."
Vicor's Sine Amplitude Converter topology is the engine behind the broadest product line of high input voltage bus converters and low output voltage current multipliers.
This patented technology offers higher performance than obsolete "square wave" bus converters, which are fundamentally limited by switching losses to low operating frequencies, low power densities and low bandwidth.
A Cross Reference Selection Tool enables users to quantify the opportunity to increase the efficiency and power density of their IBA power system.
Power designers who want to upgrade to a high-efficiency VI BRICK Bus Converter can use the online tool to identify the most appropriate option(s). A simple interface, searchable by manufacturer or part number, enables users to search Vicor's IBC bricks, quantify relative power savings and select a more efficient product.
For data sheets and additional information visit: www.powerbox.com.au
Powerbox
Ph: 02 9457 2200