NEW VACULEX VACUUM LIFTER RAISES THE BAR
16-04-2015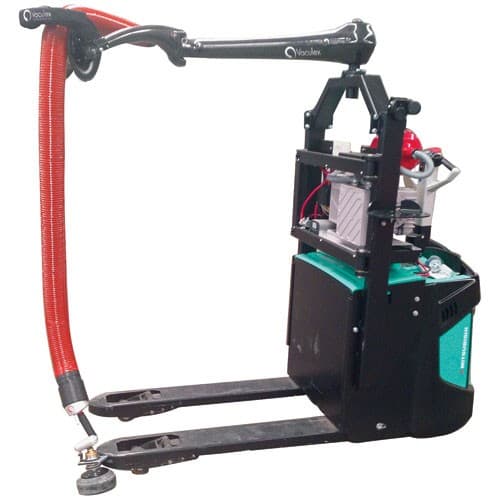 Materials Handling, Australia's largest distributor of manual handling equipment, reports huge interest in an innovative, ergonomic order picker now being developed in Australia.
The cutting edge, ergonomic vacuum lifting device, has been designed for maximum comfort, efficiency, safety and ease of use, especially in the workplace when handling items in warehouses and distribution centres.
There are many organisations wanting to safely and easily retrieve or handle individual, loose, products from pallets situated on the floor in pallet racks.
So Materials Handling has developed a weightless and effortless, battery operated, vacuum lifter attached to a powered pallet truck. 
It uses similar technology that Materials Handling has pioneered with Qantas Airways for its r baggage handling areas in some Australian major airports.
The Vaculex vacuum lifter is mounted horizontally to save on headroom and it is suspended from a patented, carbon fibre articulated arm weighing less than 5kg.
This means there is no effort and little resistance when operating.
The only operator effort is pressing a button to lower the suction cup onto the product to be lifted and the vacuum tube then lifts effortlessly. 
This ground-breaking, ergonomic, lend-a-hand workmate can be seen it in its current working prototype phase at CeMAT Australia 2015 in Sydney from May 5-7.
The expected Australian release date is June 2015.
For more details visit:
http://www.materialshandling.com.au/products/pallet-truck-mounted-vacuum-order-picker/
Materials Handling
Ph: 1300 650 035