New TURCK white paper now available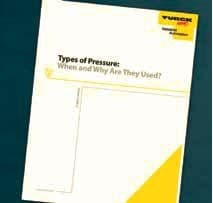 TURCK has released its latest White Paper explaining different types of pressure measurement for specific applications.
The paper, Types of Pressure: When and Why Are They Used? is now available for immediate download at
www.askturck.com.au
or on the TURCK website.
Without measurement there is no control. As with any type of measurement, results need to be expressed in a defined and clear way to allow everyone to interpret and apply those results correctly.
Accurate measurements and good measurement practices are essential in industrial automation and process environments, as they have a direct effect on the success of the desired outcome. Pressure, the measure of a force on a specified area, is a straightforward concept, however, depending on the application, there are many different ways of interpreting the force measurement.
Providing readers with an invaluable resource, the white paper discusses:
• When certain pressure measurements are used
• Why each type of measurement is used
• How they are used in various applications
You can download the complimentary White Paper to learn more.
TURCK Australia
Ph: 1300 132566