New Tsurumi slurry pumps love a challenge
31-08-2010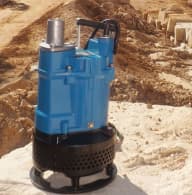 Moving thick slurries when dewatering on site is a challenge for any submersible pump.  Tsurumi Pump, the world's largest manufacturer of submersibles has developed a new series for this application.
Introduced to Australia and the South Pacific by Australian Pump Industries, the new KTV is a cast iron, heavy duty slurry pump with an integrated agitator. 
The agitator stirs the solids laded liquid so that suction is smooth and efficient.
The pump also offers a side flow, top discharge design that enables the liquid to go from the pump chamber directly through a channel in the body housing through to the discharge port.  This allows for installation in confined spaces.
That constant flow of liquid keeps the motor cool, extending life and enabling it to continue to operate even in shallow water.  Tsurumi engineers claim the KTV can continuously operate in depths as shallow as 140mm, or a little over five inches. The semi-vortex pump design minimizes start-up failure from blocked impellers.
"There are two models in the series, powered by 2kW and 3kW, three-phase 415V motors.  Both are suitable for DOL starting making them easy to install and operate in the field," said Aussie Pumps' Craig Bridgement.
Tsurumi heavy-duty pumps come with a unique three year warranty.