NEW TRENDS IN ENGINEERING PLASTICS SIGNPOST THE FUTURE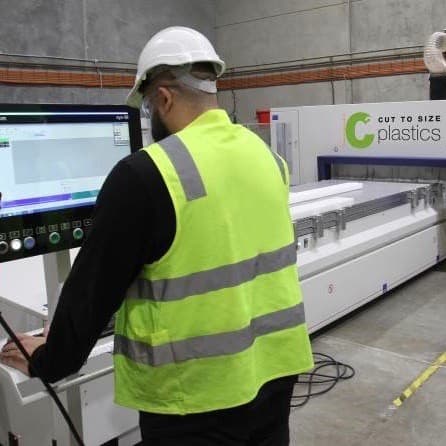 Light, strong and cost-effective engineering plastics are continuing to supplant metals in many machinery, componentry, architecture and construction applications, with manufacturers and processors equipping themselves to maximise advantages in applications where outstanding hygiene, no corrosion, resistance to deterioration, low friction, automation and safety are critical.
"Australia and New Zealand are starting to catch up with pan-Asia and global trends towards the use of engineering plastics in expanding uses to which they are eminently suited," says engineering plastics innovator Laurie Green, Managing Director of Cut To Size Plastics, which has more than 40 years' experience in engineering plastics applications throughout Asia-Pacific. "Metals are great for some applications, but manufacturers, processors and building specifiers here are waking up to opportunities to optimise their low-maintenance infrastructure and automation applications with plastics."
He says plastics have long had a place in safety applications, ranging from machinery guards and electrically protected products, right through to light and easily replaced plummer blocks housing shafts, as well as low-wear, low-friction bulk handling equipment, guides and liners to help prevent blockages and hazardous clearing operations, which can bedevil mining, food and beverage dry product and diverse bulk handling applications.
"Automation and the search for cost-efficiency are also driving change in plastics engineering," he says. "Increasingly, engineers, architects and machinery fabricators are open to innovation, rather than being rusted on to the past. And new plastics formulations are emerging every year with designed-in attributes that optimise them for particular applications.
"The important thing is to approach engineering plastics with an open mind, knowing that there are some applications for which metals will be superior and others where plastics will have the big advantages.
"For example, the particularly low melting point and high malleability of plastic allows these materials to be easily formed into a wide variety of complex shapes, thereby contributing to the ease of forming this material without requiring the use of any forming or machining procedures. Further, plastic materials also typically exhibit a greater chemical resistance compared with metals against potentially hazardous chemicals, such as those that cause oxidation or rusting when applied to metals and which can be a real hazard or downtime contributor in industries such as food and beverage and mining. Overall, plastic materials can be produced at a much faster rate as compared to their metal counterparts at a lower cost."
The company's recent innovations include the installation of a new high-speed, vibration-free Morbidelli Author M100F heavy-duty CNC router, which offers unmatched finishing quality and rapid production turnaround for the company's Asia-Pacific markets. It is also currently introducing the globally proven Flex Cover ranges of ultra-high molecular weight polyethylenes from Wefapress, which have been chemically modified to make them particularly suitable for high-temperature applications. Flex Cover products are typically eight times lighter than the comparable steel liners used to curtail friction, wear and material flow challenges in diverse applications requiring no moisture absorption, outstanding chemical resistance and corrosion prevention.
It has also just launched a new website with simple and functional navigation and useful technical information to help users decide whether plastics can deliver the benefits they need and to further extend technical support those who work with high performance and engineering plastics. The site is linked to subsidiary Hercules Engineering, which manufactures cost-efficient, low-maintenance bearings for architectural and engineering applications ranging from hospitals, high-rise and landmarks such as the Sydney Opera House, through to road, rail, bridge, tank and pipeline infrastructure in Australia, Asia and Africa.
Cut To Size Plastics
02 9681 0400
www.cuttosize.com.au