New training centre helps to ease skills crisis
30-09-2013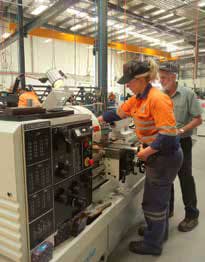 If it is to expand, thrive, and prosper, industry in Queensland must have a continuing supply of skilled workers.
Evidence of this came last year, when a Department of Education, Employment & Workplace Relations report identified many skills shortages throughout the state, including mechanical engineers, metal machinists, sheet metal workers, metal fabricators, welders, and several related categories.
One of the country's many institutions for Technical & Further Education, the Central Queensland TAFE has risen to the challenge.
Its sole purpose is to skill the people of Central Queensland, and it is leading the way in its use of technologies to deliver its education and training in the classroom, to workplaces, and to businesses across the state.
The institute has four main regional campuses at Rockhampton, Gladstone, Emerald, and Mackay – and it is in Mackay that captains of industry have seen the construction and implementation of something new and exciting.
Just completed is a trade training centre to replace existing premises, and it is located beside the CQ University premises.
Rather than recycle or transfer existing machinery and ancillary equipment, it was decided to go for an "all new" approach.
Among the suppliers was 600 Machine Tools, the UK-based manufacturer that has been designing and building world-class machinery since Queen Victoria's reign, and is now the biggest manufacturer of turning machines in Europe.
The institute selected 20 training lathes from the Colchester-Harrison range – along with 12 Erlo drilling machines by 60-year old Erlo of Spain, and four mills from 70-year old Lagun of Spain.
The Faculty Manager of Engineering Services at the CQ TAFE, Steve Bird, explained: "The teaching teams were given the opportunity to select the machines. Understandably, they had specific requirements associated with training resources, and these guided them when finalising their selection.
"In addition, they had a focus on reliability, support, safety, and longevity when determining specific machines. After careful analysis of the available options, the teams selected a variety of machines that reflect industry expectations."
Managing director of 600 Machine Tools in Australia, Cliff Purser, said: "The machines chosen by the team at CQ TAFE are 'best in class' – from manufacturers with an exemplary track-record – and we are confident that every machine will meet or exceed the expectations of the teaching team over a long working life."
The new training centre was fitted out, the machines installed in a herringbone pattern, and the doors opened for the first-ever class in mid July.
A lot of painstaking work had been completed before opening day, with high-precision machinery and ancillary equipment being installed with all the necessary care. Next came the important process of commissioning, followed by a familiarisation process for the teaching staff – both tasks performed by engineers from the Brisbane office of 600 Machine Tools.
The students at the centre are mainly male and female apprentices, still in their final year at school and seeking apprenticeships in industry – helped by guidance from CQ TAFE staff with expertise in career development.
The 600 Machine Tools company will demonstrate how education institutions can benefit from its products and services at the AusTech exhibition in Melbourne from May 7-10 next year.