New traffic doors with a focus on safety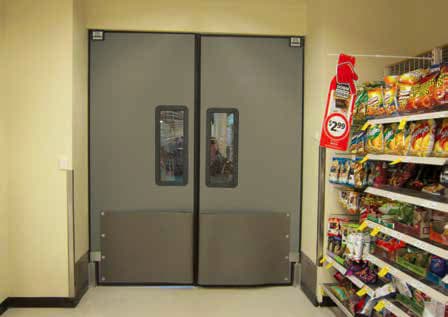 Industrial door specialist MTI Qualos has launched a new line of commercial and industrial Traffic Swing Doors – built to survive the toughest applications.
These rugged insulated Traffic Doors operate smoothly and require little maintenance. They are ideal for supermarkets, hospitals, restaurants, laboratories, even coolrooms.
And like all MTI Qualos door products, they are engineered to perform at a high standard.
These insulated Traffic Swing Doors are also stylish enough for the finest retail application and insulated so there is no loss of cool air within refrigerated applications.
Traffic Swing Doors offer long term access solutions in manufacturing facilities, warehouses, walk-in coolers or separating the sales floor from the back of house area.
Built from a rigid PVC internal framework and high impact ABS plastic outer skins, the doors have an overall thickness of 44mm.
To reduce air loss they are supplied with a complete full perimeter gasket made from a rigid rubber strip.
MTI Qualos Traffic Swing Doors can be manufactured in both single or pair, depending on the application.
Standard outer skin panel colours include black, dark grey, light grey or beige (other colours can be supplied on request).
Standard window sizes are 762mm high x 254mm wide or 559mm high x 559mm wide.
To prolong their life, all Traffic Swing Doors are supplied with spring impact panels or flat impact panels, which help cushion the impact of motorised or hand traffic.
These doors are manufactured to order in Melbourne with a short lead-time for despatch/ installation Australia wide.
Contact MTI Qualos Pty Ltd for more information.
MTI Qualos Pty Ltd
Ph: 1300 135 539
Please visit our website for more information.