NEW TOYOTA HILUX LEADS OCTOBER SALES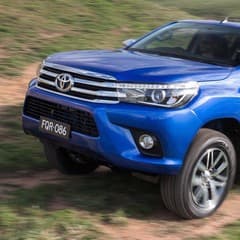 Toyota's new-generation HiLux is Australia's best-selling car in just its first month on sale.

The "unbreakable" HiLux topped the sales chart with 3,339 deliveries in October as private buyers showed marked preference for the top-grade SR5 variants.

Toyota's Corolla was the country's No. 2 seller last month with 3,271 sales, enabling it to stretch its overall lead as Australia's best-selling car in 2015.

Camry continued to perform strongly with 2,141 sales, a gain of 12.2 per cent over the same month last year, while new Fortuner arrived late in the month to outsell key rivals with 329 deliveries. 

Toyota's executive director sales and marketing Tony Cramb said 4x4 HiLux variants had achieved their best October sales on record with overall HiLux demand trending even higher than the company had expected.

"Toyota dealers took more than 4,000 new HiLux orders during the month, which is a remarkable introduction to a range that is tougher than ever while offering SUV levels of comfort and refinement," Mr Cramb said.

"Our dealers are already writing orders for delivery into 2016 as buyers continue to respond to the way HiLux offers improved value while inspiring go-anywhere confidence and delivering a compliant ride and advanced features," he said.

Mr Cramb said there had been unprecedented demand for HiLux accessories, particularly bull bars compatible with the vehicle's airbags and five-star safety rating, plus alloy wheels, tray liners, tow bar and load distribution hitch.

"Design and development of accessories was conducted in parallel with the vehicle over five years and tested rigorously under Australian conditions, providing an unmatched level of integration," he said.

Other segment-leading sales results for Toyota in October were the 86 sports car, LandCruiser Prado, LandCruiser wagon, HiAce van and HiAce bus.

The company's 10-month tally of 166,617 new-vehicle sales is more than 72,000 deliveries ahead of its nearest rival, a margin of 76.3 per cent.

"Toyota is planning a strong November and December that will accelerate the company's full-year tally past 200,000 sales for the 11th time in the past 12 years," Mr Cramb said.