NEW TENNANT T17 SCRUBBER: TOUGH ON DIRT, LOW ON COSTS
20-10-2014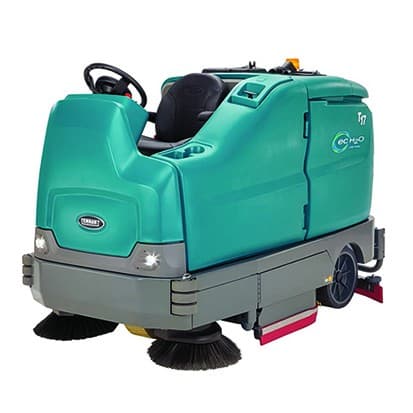 Tennant's new T17 battery-powered, ride-on scrubber is designed to tackle the harshest industrial environments while reducing the cost to clean and providing a safe operating facility for employees and customers.
The optimal scrubber for increased runtime and productivity, and available with the largest battery capacity in its class, the T17 offers continuous cleaning for up to 8 hours on a single charge. Combined with the optional side brush, the T17's scrub path is increased by 30 percent and allows for improved edge-to-edge cleaning.
Engineered for durability, the T17 is also equipped with a wrap around steel bumper, cushioned stacked rollers and optional squeegee protection to ensure your investment is protected from unintentional impacts.
The maintenance-free scrub brush and propel motor technology further eliminates maintenance costs associated with traditional scrub motors.
With more power available to the propel system, the brushes are less stressed during operation, last longer and deliver consistent cleaning results.
The T17 is designed to overcome the cleaning challenges faced in manufacturing facilities while maintaining a safe operating environment.
Contact Tennant Australia to request a free onsite demonstration.
Tennant Australia
Ph: 1300 836 6268 (TENNANT)