NEW TECHNOLOGIES EXPAND COMPRESSOR CHOICES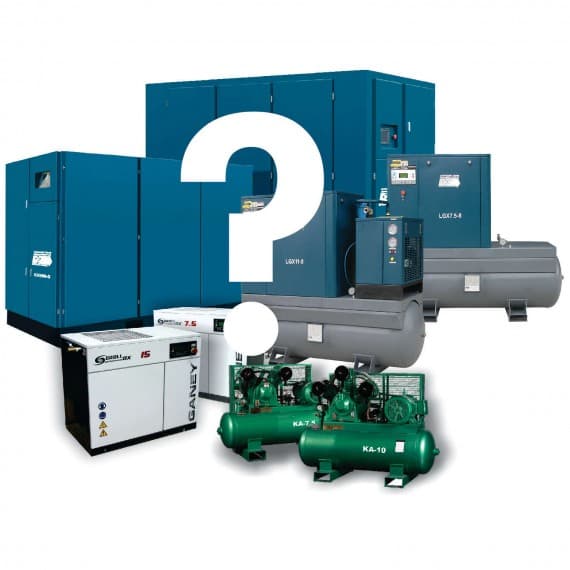 The range of air compressor types and capacities available to Australian industry has expanded greatly in the past few years. Driven by rising energy costs and the need to match air compressor capacity more closely to application demands, there is now a far greater choice. To name but a few, these include: large-capacity rotary-screw types offering single- and two-stage models with fixed or variable speed controls, tank mounted rotary screw models, and compact rotary and piston types for medium and smaller operators.
In the past, a company would generally run a compressor until it simply wore out or servicing and repairs became too costly and created intolerable downtime. So they replaced it with the same type and maybe went up a capacity size if the application demands has risen or looked likely to.
Today, with the introduction of new technologies in a wider and more sophisticated range of compressors and ancillary equipment, every operator has the opportunity to select a compressor that will exactly or at least closely match their application requirements immediately and into the future.
According to Mark Ferguson, CEO of Southern Cross Compressors: "If you use compressed air to run your production, from a small workshop to a huge manufacturing plant, selecting the right compressed air system is vital, not only on a continuing operational basis, but considering the variable air demand to only run the compressor when needed and at the right air delivery rate for multiple applications.
"This becomes even more vital in the capability to greatly reduce energy costs for running the system. The correct decisions can save thousands of dollars per annum."
For small operators
Portable, piston type (reciprocating) compressors have been the workhorses of small workshops for years. And while newer, more efficient models are now available, operators have the opportunity to upgrade to much quieter and energy efficient alternatives such as the Ganey range of advanced, lubricated Scroll technology models.
These compact compressors offer ultra-quiet vibration-free operation and have proved to be more reliable in the long term and yet cost less to run than the old piston-type compressors.
Mark Ferguson says: "We offer a wide variety of compressors for small to medium applications including piston types, the advanced Scroll range and our LGX compact, tank mounted Rotary Screw models with capacities from 3 to 15kW. Upgrading can make a huge difference to your production capacity while significantly lowering your power bills."
For industrial applications
Basic rotary screw compressors have come a long way in recent years, and although advanced servicing and system upgrades can keep these machines operating, there is no doubt that older models have become increasingly costly to run and more expensive to maintain.
Says Ferguson: "Matching the right compressor and system to the customer's needs has become vital to our continued success in the industry. We carry out a comprehensive calculation of the client's immediate and future compressed air demands including application variations, peak operating requirements, air quality, operating environment and other client specific considerations before we recommend a new compressor.
"Our new two-stage rotary screw technology allows for a reduction in required operational horsepower with equal or increased air output and with the inclusion of variable speed drive technology ensures the compressor is only working to the capacity needed at any scheduled time."
Custom compressors
For specialised applications, air compressors can be designed or adapted to suit environmental conditions, required air quality, mobility and other considerations.
Mark Ferguson says: "We get many requests that require innovative solutions. We created a mobile frame to move a very large compressor around an underground mine. Recently we also utilised special components and stainless-steel casings to supply Huon Aquaculture with seven KHE rotary screw compressors to run their sea-based operations. Our design technicians are experienced at providing application specific solutions."
However, specifying the right replacement compressor alone won't maximise efficiency and cost saving unless the air delivery lines, couplings and ancillary equipment such as filters, dryers and receivers are also well maintained. For this purpose, Southern Cross conducts a complete system survey to detect leaks and any inefficiencies that require fixing to gain maximum performance and energy cost savings from every new installation.
To ensure ongoing trouble-free and cost-efficient compressed air system performance, Southern Cross provides customised customer maintenance programmes. Ferguson adds: "We are so confident in the durability of our complete KHE Rotary Screw range that we offer a lifetime air-end warranty."
A new generation on the way
Later this year Southern Cross will introduce the next generation of air compressors - two-stage permanent-magnet compressors down to 37kW – describing them as super-efficient compared with any single-stage compressor under all operating conditions.
Southern Cross Compressors (Australia)
1300 098 901
www.southerncrossaircompressors.com.au