NEW TECH MONITORS YOUR HEALTH THROUGH SWEAT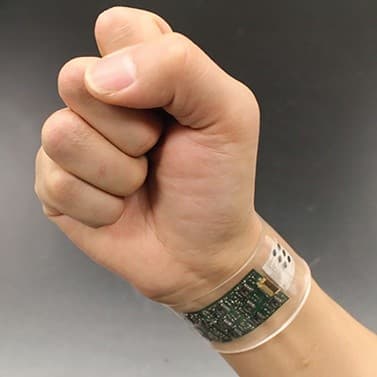 Fitness and health awarness has seen a tremendous boost in the last few years, with apps and devices created to help you minter your fitness.
Scientists are saying however, that we are neglecting an important source of health data: sweat.
Researchers in the US have now developed an electronic sensor that provides continuous and non-invasive monitoring of a number of biochemicals in sweat, saying that many keys to ones fitness levels can be unlocked by looking at the metabolites and electrolytes in sweat,
"Human sweat contains physiologically rich information, thus making it an attractive body fluid for non-invasive wearable sensors," said Ali Javey, an electrical engineer and computer scientist at the University of California (UC Berkeley).
"[We] have developed a fully integrated system that simultaneously and selectively measures multiple sweat analytes, and wirelessly transmits the processed data to a smartphone."
"When studying the effects of exercise on human physiology, we typically take blood samples," said exercise physiologist George Brooks. "With this non-invasive technology, someday it may be possible to know what's going on physiologically without needle sticks or attaching little, disposable cups on you."
The prototype of the new tech includes five sensors on a flexible circuit board, with the sensors measuring metabolites (glucose and lactate) and electrolytes (sodium and potassium), and also monitors skin temperature, and the circuit board analysing the data, and transmits it to other devices.
The researchers claims that unlike the Fitbit and Jawbones, the sensors provides a platform for sweat-based health technology, with the potential to be used as a serous clinical tool, helping physicians and scientists to monitor biochemical levels.  
"We can easily shrink this device by integrating all the circuit functionalities into a single chip," said one of the team, Sam Emaminejad.
The sensors can be worn constantly, meaning that is can collect a constant stream of health data.
"We wanted to move from the kind of cumbersome equipment used in a clinic to a light, wearable device that could deliver continuous measurements," said Emaminejad.
The aim of the research is claimed to be a device that everyone can wear to assist doctors to assess the health of a patient.