NEW T-SLOTTED FRAMING CONCEPT FROM 80/20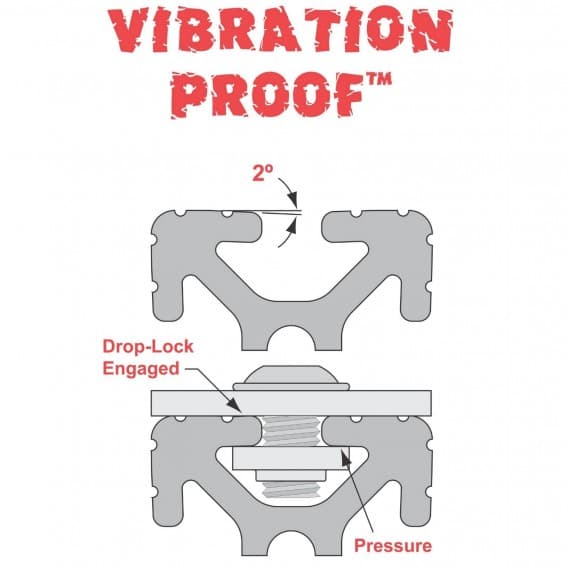 Sydney-based 80/20 Australia specializes in T-Slot aluminium extrusion, offering an extensive list of applications.
The company can tailor innovative "out of the box" solutions to suit any industry or application to benefit your imagination and creativity. 
80/20's modularity is based upon the T-slot concept of our profiles. The "T" shaped slots present on all of our profiles allow for infinite positioning along the axis.
While there are other types of T-slotted profiles in the industry, one modification to the 80/20 line is a slight adjustment to the "T" which creates the 2° Drop-Lock Feature.
The 2° Drop-Lock Feature is one of the many practical aspects of the 80/20 product line that many of our competitors do not have.
This drop-lock consists of a 2° decline of the T-slot flange. When a fastener is tightened to (or beyond) the necessary torque, the flange will flex up to the adjoining profile, thus creating pressure, which prevents the fasteners from vibrating loose.
T-slotted aluminum solutions have a significant advantage over the previous welded steel framing. 
As no welding is required, T-slotted framing allows for solutions to be altered and reconfigured at a moment's notice.
Only simple hand tools are required for assembly of T-slotted profiles. 
T-slot aluminium extrusions are lightweight, easy to transport and assemble.
With seven series of profiles available, solutions are easily customizable.
With T-slotted framing there is no need for primers or paints as aesthetic values are considered in the first stages of the solution process. 
80/20 Australia
Ph: 02 9838 9900