New sync earmuffs tune into the digital age
31-08-2010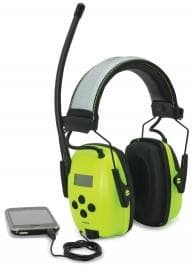 New Howard Leight Sync earmuffs
The new Howard Leight Sync AM/FM Radio incorporates passive hearing protection, digital tuning technologies, improved sound quality and a new earmuff design that will raise the bar in the industry. 
Sync delivers the proper levels of hearing protection in hazardous noise environments with high-visibility safety and the latest in digital tuning.
Its eye-catching bright green ear cups provide a highly noticeable contrast against dark settings, especially in low lighting situations and inclement weather. 
Plus, Sync Radio Hi-Visibility incorporates an exclusive reflective headband that glows when exposed to light, providing increased visibility and safety on the job.
Other product features include AM/FM radio and the ability to listen to music through a personal listening device (e.g. MP3 player, smartphone), LCD display and locked-in station ability. Ten preset channels and volume memory are also included. 
Like all Howard Leight product by Honeywell, the Sync earmuffs also feature robust construction to withstand the roughest of treatment and toughest of environments.  
The earmuffs are also approved to AS/NZS 1270:2002. 
Letting workers experience the best in sound and the brightest in safety protection, the new Howard Leight Sync earmuffs allow perfect synchronization with the latest in safety standards and new age sound.
Honeywell Safety Products
Ph: 1300 139 166