NEW SURECUT TECHNOLOGY TO MAXIMISE CUTTING PERFORMANCE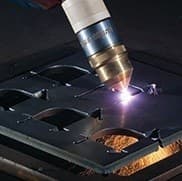 Hypertherm, a manufacturer of plasma, laser, and waterjet cutting systems, is transitioning its Integrated Cutting Solutions (ICS) brand to SureCut Technology. Like ICS before, SureCut is designed to maximize cutting performance by automatically applying optimised cutting process parameters to simplify cutting and reduce operator intervention.
SureCut is delivered through a combination of Hypertherm products such as automated systems, CNCs and CAM software.
Hypertherm spent more than a year developing a comprehensive set of cutting parameters to cover a wide range of applications.
Factors that impact system settings include material type, thickness, cut type, amperage level, gas selection and more.
"Though an experienced operator is capable of choosing the right settings, the process can take quite a bit of trial and error," explains Hypertherm's SureCut marketing director Abhi Sharma. "SureCut saves time by eliminating this trial and error. It automatically boosts productivity with minimal operator intervention."
Some benefits of SureCut Technology include True Hole for bolt ready holes, True Bevel to simplify the process of cutting beveled edges, Rapid Part to markedly reduce cut-to-cut cycle time and Remote Help for real time troubleshooting.
To learn more visit: www.hypertherm.com/SureCut-en.
Hypertherm
07 3103 1695
www.hypertherm.com