NEW SUPERFAST 3D PRINTER 'INSPIRED BY SCIENCE FICTION'
27-03-2015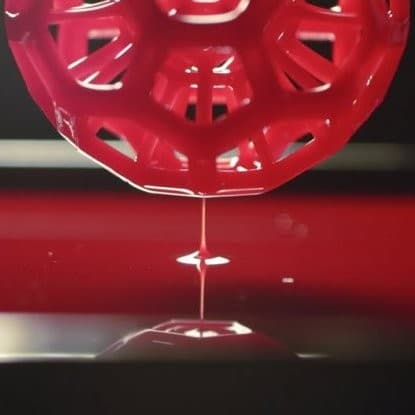 You know that scene in Terminator 2 when the new Terminator T-1000 model rises creepily out of a pool of metallic liquid?
Well, now a new, super-fast 3D printer kind of does the same thing, but with any type of object you design. 
The new technology is known as Continuous Liquid Interface Production, or CLIP.
But despite being radically different to previous 3D printing processes, CLIP is incredibly fast.
In fact, the researchers behind the device claim it's 25 to 100 times faster than anything else on the market.
This is because, instead of buliding up an object using layer upon layer of material, CLIP actually grows an object from just one pool of molten resin.
Developed by researchers at a new company called Carbon3D, the printer was announced at a recent TED2015 conference, coinciding with a paper published in Science.
And we don't even really want to call it a 3D printer because it's really, really different to anything we've seen before.
Or maybe it's that it's the first true 3D printer, as Joseph DeSimone, one of the co-founders of Carbon3D and a professor of chemistry at the University of North Carolina and North Carolina state explained in his TED2015 talk.
"We think that popular 3D printing is actually misnamed – it's really just 2D printing over and over again," said DeSimone, as The Washington Post reports.
"The strides in that area have mostly been driven by mechanical engineers figuring out how to make things layer by layer to precisely create an object. We're two chemists and a physicist, so we came in with a different perspective."
The process works as the result of an incredibly well-controlled system, hinged on the basic principle that light hardens resin, while oxygen keeps it soft.
With this in mind, a single pool of resin is placed over a digital light projection system, with a specially designed window in between that allows both light and oxygen to travel through it.
This light and oxygen is then released in very precise, coordinated bursts, so that as the machine slowly pulls the finished product out of the liquid, some parts of the resin are hardened by the light, while others are kept malleable by the oxygen. 
This results in detailed shapes forming out of one solid piece of resin, rather than being created through changes across multiple layers. Already the team can create features of less than 100 micrometres, so around the width of a human hair. 
The process is capable of creating a tiny yet detailed Eiffel Tower model in just six minutes.
Not only is the whole process remarkably quicker than 3D printing - we're talking a scale of minutes rather than hours - but the resulting objects are also far smoother, more precise and stronger.
And that matters if you want to 3D-print, say, a tiny stent that keeps your blood vessels open, or a micro-needle for drug delivery. Or the tiny sensors we have inside our smartphones.
So just when you thought 3D printing was the future, it turns out, you were only half right. The real future is growing 3D objects from scratch.
Sources: TED 2015, The Washington Post