New strapping machine from AWS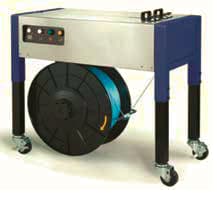 Australian Warehouse Solutions (AWS) has released a S555 strapping machine that delivers big cost savings and reduced downtime.
The S555 machine, exclusive to AWS, uses 5mm up to 15mm PP strapping. Instant access to the strap feed tracks and head is provided with a patented "hinged" strapping platform.
This feature allows users to selfmaintain the strapping machine, resulting in significant cost savings. It also means less downtime.
The digital tensioning indicator and adjustment is mounted outside the machine casing again allowing users to self- adjust the tension.
And the S555 features a superior tension range.
It can be as low as 2kg tension for strapping delicate or fragile items and soft items like laundry.
Strapping of small items is no problem for the S555 as it can strap items as small as 50 x 25mm.
Contact AWS for a free consultation and cost saving calculation.