New Spitwater G-Series hits the spot
31-08-2010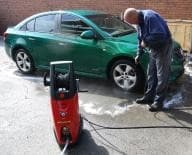 Spitwater, a leader manufacturer and supplier of pressure cleaners, has introduced a new range of upright machines designed for hobby and handyman use. 
The two new Spitwater models, G120 and G120 Plus, are Italian designed and built.  
They have been introduced by Spitwater to cater for the important handyman and hobby market where there is a clear need for a pressure cleaner that delivers reliability, water flows and pressures of a commercial unit but at a more affordable price level.
The two models offer identical performance: pressure of 120 Bar (1800psi) and the water flow of 7.5L/min.  
Model G120 is the basic unit offering a single detergent tank, 8m wire-braided high-pressure hose, professional quality gun and a standard 4-way adjustable nozzle.  
Model G120 Plus is a de-luxe version offering twin detergent tanks, 12m wire-braided high pressure hose mounted on an in-built hose reel, professional quality gun, standard lance with a 4-way adjustable nozzle and a lance with a turbo nozzle.  
This is more than enough to efficiently clean driveways, the deck, around the house, patio furniture, the kids' outdoor play area, lawn equipment, bikes, cars and motorcycles.
The heart of the new machine is the proven, axial pump with metal body, brass head and ceramic coated pistons. The materials used will ensure longer life and resistance to corrosion. The pump is powered by a maintenance free, two pole, continuous duty electric induction motor, with thermal protection. 
Both machines are fitted with large, sturdy wheels and an ergonomically designed handle and are able to be moved around with ease. Both machines have useful, built-in accessory holders for the gun and lances.  
The Spitwater G120 and G120 Plus are simple to use.
Just connect the water from your tap to the long life brass hose connection on the pump.  Remove the power-cord from the built in electric cable holder and connect to a normal 240V 10 Amp power supply. Turn the start switch on at the front of the machine, pull the trigger and the machine is ready to clean.
And pressure cleaners save valuable water.  
According to water supply authorities, you can flush up to 30L per minute of valuable, clean fresh water down the drain, using a garden hose. The Spitwater G-Series uses only 7.5L per minute at 120 Bar (1,800psi) pressure delivering excellent cleaning results as well as major savings in time and energy. 
The new machines are backed by the Spitwater comprehensive 12-month warranty. 
Spitwater
Ph: 02 8788 6200