NEW SOLIDS MANAGEMENT SYSTEM FROM GORMAN-RUPP PUMPS
25-09-2015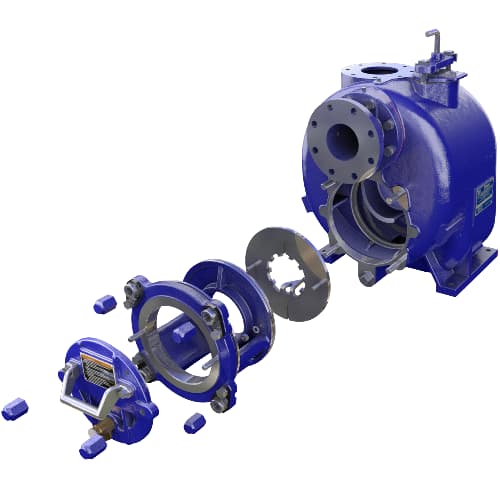 Gorman-Rupp, a world leader in solids handling self priming centrifugal pumps, has released the most advanced system for handling solids laden liquids, according to Australian distributors, Hydro Innovations. 
Known as the Eradicator Solids management System, the technology is said to be ideal for the new challenges for solids handling pumps. This includes stringy solids like wet wipes, which are increasingly present in sewage, and feathers in poultry process.
The new system comes as an option on the Gorman-Rupp range of Super T series pumps, and is also available as a retrofit kit on existing Super T Series pumps already in the field.
The Eradicator system features an aggressive self-cleaning wear-plate incorporating a number of notches and grooves, as well as a patent pending lacerating tooth that helps break up stringy materials, scrape them off the impeller vanes and pass them through the pump – all without impacting performance or interrupting service. A special cover plate with the system includes a patented lightweight inspection cover that can easily be removed if necessary to inspect pump internals.
System benefits include improved operational efficiency, increased uptime, reduced maintenance costs, lower life cycle costs and easier access to the impeller.
Eradicator-equipped pumps do not require expensive chopper blades that need periodic replacement, but rely on passing large solids and stringy materials straight through the pump. The system is available with carbon steel or hardened alloy steel wear plates.
Hydro Innovations
Ph: 02 9898 1800