NEW SMART GLOVE TRANSLATES SIGN LANGUAGE
07-10-2015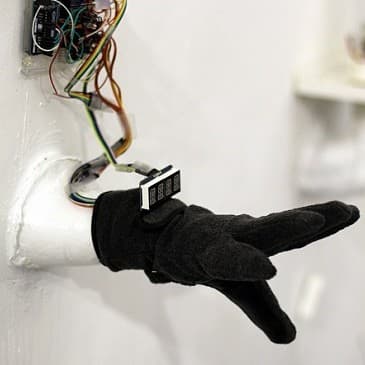 In recent technological advances, Saudi designer, Hadeel Ayoub has created a smart glove that is able to translate sign language to text.
The smart glove works by having five sensors sit on the fingers and monitor the motion, while an accelerometer integrated into the glove can tell how the hand is being held and the direction that the hand is pointing.
Ayoub has also designed a computer app that can display the signed words onto a screen; she is hoping to have a mobile app.
"I had one mission when I started this project and it was to facilitate communication between all kinds of disabilities, eliminating barriers between people who have a visual, hearing, or speech impairment," Ayoub said in a press release. 
"The prototypes each have a new additional feature, an LED light, and a speaker for example, that took me one step closer to my goal. Once I've incorporated Wi-Fi and translation features into it the glove will be useful for all - no exclusions as to who the user can reach, wherever, whoever, from any country at any time."
While there are similar projects, Ayoub says that her invention is the lightest and most practical at the moment. She has plans to create a version for younger users and accommodate for multilingual speakers.
Ayoub says several companies who are interested in mass-producing her smart glove have already approached her.