New smart camera system from ABB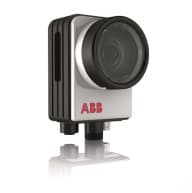 ABB Integrated Vision is a powerful smart camera system that makes vision-guided robotics applications faster and easier to deploy.
The system delivers greater reliability at 25 percent of the traditional set up time.
Using 2D vision guidance, manufacturers have the ability to track products more accurately.
It also helps to improve supply chain management, improve quality, troubleshoot challenging lines and processes and significantly expand use of robotic automation. Vision-guided robotics can significantly improve a company's bottom line – saving time, money, and resources.
"Besides improving quality and flexibility, Integrated Vision optimises production quality, and maximises inspection and control by giving robots the power to see," said ABB product specialist Paolo Maggi. "Companies that effectively utilise vision-guided robotic systems can increase throughput and lower production costs, improve product quality and reduce rework and waste."
ABB's Integrated Vision, powered by Cognex, features sophisticated imaging technologies such as Cognex's patented PatMax algorithm for advanced part location. The result is robust inspection, defect detection, guidance, alignment and measurement which are necessary to ensure manufactured products meet the highest standards.
All this power is only useful if it is easy to setup, deploy and maintain.
RobotStudio, ABB's powerfully simple PC-based programming tool now provides the platform for creating vision tasks quickly and easily.
Operators can select features, set parameters and operate under real world conditions from a library of common vision applications.
The smart camera offers a wide range of built-in communication protocols that interface directly with the ABB robot, getting a robot up and running in the virtual world is simplicity itself.
"Both the advanced and first-time vision user will find ABB's Integrated Vision's applications easy-to-use," said Maggi. "Operators simply plug the camera into the ABB IRC5 robot controller and they are ready to go."