NEW SHOWER HEAD TELLS YOU WHEN TO GET OUT OF THE SHOWER
20-01-2016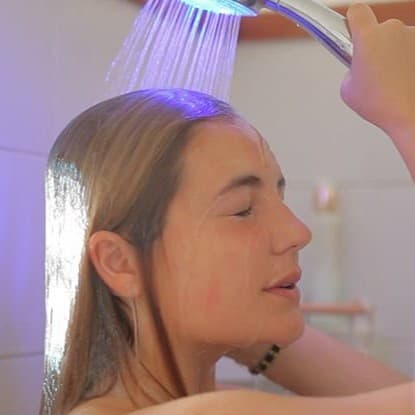 One of most loved bad habit is the long shower, life contemplation aside, the long shower is a massive contributor to water wastage in most households.
For those who want to monitor the water used in a shower, French design firm has developed a new kind of shower head that changes colours to know how much water you've used. 
Showcased at this years CES exhibition, the new lights in the Hydrao Smart Shower glows green at 10L, purple at 50L, and beyond that it will start flashing red till you leave the shower.
"The system works with a companion app, available for iOS and Android, to let users track water use over time, with further options to change the water consumption threshold and what colour the shower head flashes," James Temperton reports for Wired UK.
The developers have said that the 1000 people that have used the first generation of the product have seen an average reduction of 25% in their water
The LEDs that are used in the showerhead needs no batteries as it works on a built in turbine system that uses the flow of the water, making it completely self-sufficient.
The showerhead can be used with any conventional shower hose and the second gen will be up for sale for about US$99 in February or March.