New security lights with 10-year lifespan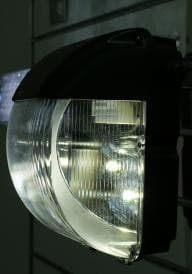 Marl's new high brightness LED security floodlights have been re-designed to consume 30 per cent less power.
The new 742 Series of security lights produce 1473 lumens while drawing just 21W. 
The new housing and day/night sensor eliminates light wastage making it a cost effective solution for space and perimeter lighting in commercial, industrial and residential premises.
Marl's 742 Series, from Aerospace and Defence Products, is ideal for lighting applications in unattended or hard to access areas where maintenance can be costly. This includes car parks, tunnels, high bay applications, pathways and perimeters. 
The robust housing protects four high brightness LED light engines from accidental damage or vandalism. It is sealed to IP65 rating to eliminate water and dust ingress, lowering maintenance and replacement requirements.
An optional day/night sensor automatically detects ambient light to control when illumination is required – switching on at night-time and off in daytime, eliminating light wastage and reducing utility costs. 
Based on a rated life of 50,000 hours, the 742 Series has a lifespan of over 10 years at 12 hours continuous use per day.
A number of 20mm conduit entry points along the back and sides allow the units to be mounted directly onto walls, ceilings or posts to cast a downwards beam of daylight white coloured light, with a colour temperature of 5000K. 
The robust housing is constructed from die cast aluminium with a prismatic polycarbonate lens, has a temperature range between -20 to 60ºC, and is manufactured at Marl's Ulverston site in the UK to ISO9001 approval.
Aerospace & Defence Products
Ph: 02 9979 9001