NEW SECO TAPPING CHUCK BOOSTS HOLE-TAPPING OUTPUT
14-01-2015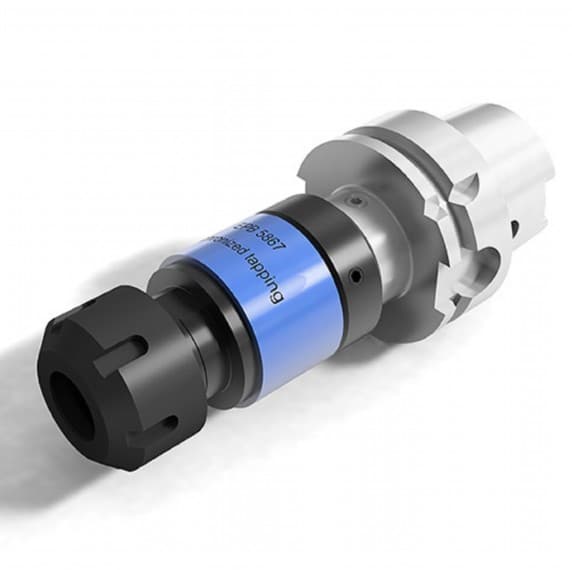 Seco completes its range of high-quality tooling systems with the recent launch of the EPB 5867 tapping chuck.
The new chuck features an all-new micro-compensating mechanism for secure tapping with synchronous machines.
The mechanism´s built-in axial micro flexure of +/- 0.5 mm compensates for micro deviations between the spindle rotation, feed rate and tap pitch to eliminate tap stress and breakage. As a result, users achieve high-quality threads, especially in blind-hole tapping applications.
When compared with conventional non-compensated tapping chucks, the EPB 5867 significantly increases hole-tapping output and extends tool life by absorbing the axial stress that would otherwise transfer to the tap itself. Performance is also non-material dependent so users in all industry segments can benefit from maximum application versatility.    
The EPB 5867 accommodates HSK-A, DIN-AD, BT-AD, and Seco-CaptoTM spindle interfaces, as well as combined Weldon/Whistle-Notch shanks or cylindrical shanks that can be mounted on many toolholders.
The range covers tap sizes M2 to M30 when using ER11, ER20, ER25 and ER40 tapping collets with square drive. The collet clamping nuts can also hold sealing rings to force coolant through taps with coolant channels.      
In addition to the EPB 5867, Seco´s range of tapping chucks includes EPB 5283 quick change tapping chucks with axial feed compensation for non-synchronous machines. EPB 5260 quick change tapping chucks and EPB 5865 ER tapping chucks are available for rigid synchronised tapping that is only possible with synchronous machines.
Seco Tools
1300 557 326