New safety glasses with bite
31-08-2010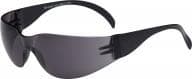 Dead safe … new Red Belly Safety Glasses from Industroquip
Workers throughout Australia are fast discovering the benefits of Red Belly Safety Glasses from Industroquip.
Competitively priced new Red Belly Safety Glasses are comfortable with a lightweight design. "I've swapped to Red Belly's in our plant," says Peter a storeman at a large engineering company at Wetherill Park, western Sydney. "The guys are all happy with them and my boss is even happier with me due to me saving him $2500 per month."
Brian, a purchasing officer at a Food Processing Plant at Bundaberg, Qld says: "The Red Belly Safety Glasses are great because we were spending far too much on expensive Safety Glasses that were just thrown in the bin everyday."
Ron, a Safety Officer at Bayswater Vic says: "Red Belly Safety Glasses seem to be custom made for everyone's head on this site. "They are a perfect fit and great value for money we are pleased we found them."
Red Belly Safety Glasses are approved to Australian Standards. 
Industroquip is the importer of a wide range of personal protective equipment including gloves, eyewear and respirators.
Industroquip offers fast delivery anywhere in Australia. 
Contact them for a free sample and obligation free proposal.
Industroquip
Ph: 1300 303 249