New Rotatruck: light, compact and strong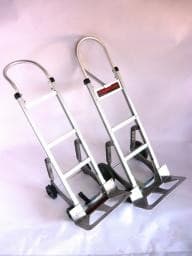 Compact and strong … new Rotatruck-Lite
After much work with users and clients Rotacaster has developed a new range of Rotatruck hand trucks. 
Research indicated the need for a compact, lightweight, yet robust unit to serve a broad range of purposes and carry loads of up to 150kg. 
The new aluminium Rotatruck-Lite hand-truck delivers. It weighs in at only 9kg, with a full sized magnesium toe. 
Rotacaster MD Peter McKinnon said: "Just as the award-winning full-size Rotatruck, the Lite series is easier, quicker and safer to use when compared to traditional hand trucks."
It's easier because the Rotatruck carries the load on its patented self-supporting, multi-directional wheelbase. 
It's quicker because the Rotatruck is faster across terrain, obstructions and nimble in confined spaces.
And it's safer because using the Rotatruck requires less effort and encourages ergonomically correct use. 
These ergonomic benefits are perfect for users with pre-existing conditions and for people not skilled in the use of hand trucks and manual materials handling.
Thanks to its stable wheelbase the Rotatruck is an ideal partner at the job site for almost any trade. Not only does it do the heavy lifting, it's ability to navigate confined spaces make it an ideal platform. 
The Rotatruck is also ideal for home users, retirees and those with weaker mobility or strength. 
"The self-supporting wheelbase is rugged enough to go to most places around the house, while the non-marking wheels are safe to bring into the house," said Mr McKinnon.
"Similarly, office and retail users are traditionally not expert nor fit enough to handle many of the common demands around the office or store and thus are exposed to manual materials handling risks. Only the Rotatruck's unique multi-directional self-supporting wheel base can deliver ergonomic safety improvements while still handling significant loads."
Rotacaster
Ph: 1300 768 222