New robot controller with smart phone simplicity
31-08-2010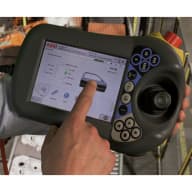 ABB Product Screen brings smart phone logic to its robot-controller device, the FlexPendant.
The new software package uses graphical objects, known as widgets, to perform basic robot functions.
Widgets can be created using either ABB ScreenMaker or third-party software such as Microsoft Visual Studio.
"Thanks to smart phones we've learned to take simple graphic interface configuration for granted" says Paolo Maggi product specialist for ABB Robotics in Australia.
The software's on-screen customisation and user-friendly navigation are designed for use with a variety of applications such as arc welding, spot welding and dispensing. Widgets can be programmed to perform information, control, monitoring and notification functions.
Customers simply choose which widgets they need as well as what they should look like. Ready-made widgets and apps also can be shared and downloaded from ABB's application library, Robot Apps.
"Production Screen is a cost effective way for robot operators to interact with the robot directly from the FlexPendant," adds Maggi. "Its production environment puts the operator in control by bringing only the relevant functions to the forefront, which allows robot operators to focus on production-related data and to work more effectively."
ScreenMaker is a software package, available from ABB, which allows users to create customised FlexPendant GUIs. It eliminates the need to learn the visual studio development environment and .NET programming.
ABB is a leader in power and automation technologies with a presence in about 100 countries.