NEW RESCUE AND ESCAPE DEVICE FROM CAPITAL SAFETY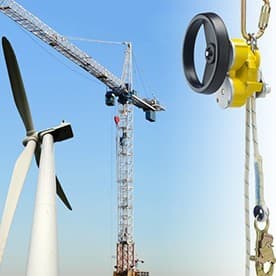 Capital Safety, home of the DBI-Sala and Protecta brands of fall protection equipment, has launched the new Rollgliss R550 Rescue & Escape Device.
The Rollgliss R550 is a smaller, more lightweight escape solution ideal for wind and cell phone tower work, aerial lifts and cranes.
Offering fully automatic, hands-free descent, the Rollgliss R550 is a safe, easy-to-use rescue and descent system that requires minimal user training.
With lightweight yet durable cast aluminium housing, it is the lightest, most compact unit on the market in its class and replaces its bulkier predecessor the R500 series.
The Rollgliss R550 features integrated rope ears for greater descent speed control in assisted rescues and dual redundant brakes for added security and safety during automatic descent.
The bidirectional hub design allows the rope to descend from either side, bringing one hook up as the other goes down, so that the system can be used for immediate multiple descents.
Rated for up to two people, the Rollgliss R550 performs in a variety of situations,
including an emergency descent or a full rescue with the built-in rescue hub model.
Multiple rope length options up to 500m, make the Rollgliss R550 ideal for a
variety of environments and rescue and descent applications.
"In an emergency situation, you don't want to have to worry about complicated rescue
devices," said Rick Millar, Technical Manager for Capital Safety Australia & New
Zealand. "Because the Rollgliss™ R550 is user-friendly and requires less training,
workers easily know how to descend safely or perform a peer-to-peer rescue —
potentially saving a life."
Capital Safety
Ph: 1800 245 002