New Reach Truck worth waiting for
31-08-2010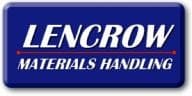 Lencrow is looking forward to the delivery of the new V Series Reach Truck that has been 24 months in design and testing. 
The first of this series will be delivered to Lencrow this month.
The unit has been designed with both driver ergonomics and efficient operation in mind. 
It is powered by a 600 amp hour battery which gives this unit great duty cycles and this is further improved by the traction and hydraulic systems running AC Zapi controllers. The unit has very smooth operations and the speed of operations is assured by the 360º steering. 
The first thing the driver will notice is the finger tip hydraulic controls and small ergonomic steering wheel. 
They have managed to squeeze more leg room into this model and driver comfort is also improved by the fully adjustable dash position.
The unit is equipped with both electromagnetic braking as well as foot controlled load wheel brakes giving smoother control for those tighter applications. The parking brake comes on as soon as the unit is stopped or the key switch is turned off. All units have side shift standard as well as forward facing work lights.
"We have been using reach trucks from China for a number of years and they were very reliable yet lacked the features of the European machines, says Ross Grassick, Managing Director of Lencrow Materials Handling. "This unit has all those features and as soon as you start to operate the 16VR it has a noticeable smoother operation as well as being very quite, Mr Grassick says. "The steering is precise and smooth and the lift speeds are more than acceptable. The units are available with lift heights to 9500mm making them suitable for today's warehouses."
The masts on the new EP 16VR are milled after welding to ensure that they are both smooth and have no movement with the higher lift heights. 
These units are built for a world market and offer all of the features of the other leading brands. 
EP units are built for Australian conditions and are supported by Lencrow after sales service program offering factory-trained technicians and real time parts backup. 
Lencrow Group
Ph: 1300 536 276