NEW RANGE FROM PCA GIVES NEW EDGE TO ENCODERS
18-08-2016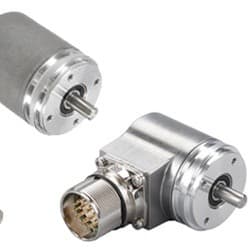 In the world of automation, there is nothing short of innovation and creation as the industry continues to move forward.
From Plant Control and Automation comes a range of programmable incremental shaft encoders that are a new way of looking at a traditional piece of technology.
Unlike many similar products available for consumers, the use of magnetic principles over the traditional optical gives a big boost where it is needed.
The advantaged for such a controller is with extra speed they become more efficient; while an optical encode wave from would retract at their upper end of the scale.
The Posital encoder's feature a method use for programming that is both simple and reliable, and all you need to supplement it is an adapter box called a Ubifast.
This provides Bluetooth communication between the encoder and a range of web browser software, this enables the user to use, programme, and read the settings on any mobile device.
The versions that come with both incremental and absolute encoders in the same housing are both programmable to the individual needs and requirements. This flexibility for reprogramability allows for changes to be made without the need to purchase a new one.
The IXARC incremental encoders provide a high-resolution measurement using incremental interfaces. They are available with common configurations such as A, B, Z, and inverted signals available as HTL (Push-Pull) or TTL (RS422).
Some features include:
 
Any PPR up to 16384 Available
Flexible Scaling Functionality
Compact Size Down to 36 mm Ø
Optional Stainless Steel and Heavy Duty Housings Available
High Shock and Vibration Resistance
Without the need for over complicated specialised equipment, PCA provides a robust product appropriate for machinery, factory and a range of other applications.
Plant Control and Automation
sales@pca-aus.com.au
http://www.pca-aus.com.au/