NEW PURPOSE DESIGNED ROOFING SHOE BY MACK
24-10-2016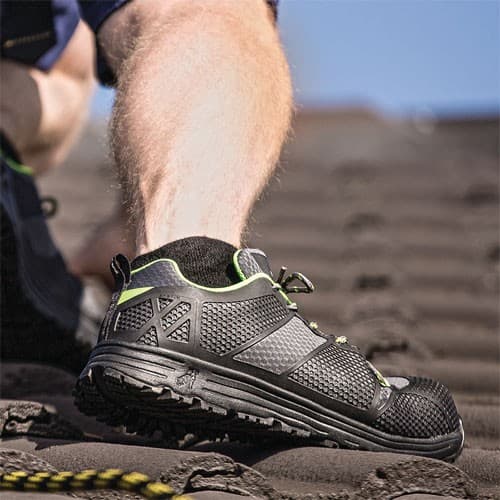 Injuries within the manufactruring industry are unique in the sense that many can possibly be fatal. Falls from roofs accounted for 54 fatalities in the construction industry from 2002 to 2013 and slips accounted for 28% of all injuries in construction from 2008 to 2012 1 .
Working on roofing surfaces is extremely demanding on the performance requirements of the joints in each region of the foot and ankle says Dr Caleb Wegener, head of Footwear Research and Innovation, and with high accident rates Mack boots have launched their Pitch safety show.
The shoe is designed specifically for work on roofs and similar slippery environments. The Pitch is part of the new Traction Control range that features an innovative slip resistant sole design that exceeds the Australian and international standards by 122% (ISO 20344:2011, 5.11).
In order to maintain traction and adapt to the surface the foot is often required at the end range of motion making the design of the sole and upper critical to performance says Dr Wegener.
The sole of the Pitch is designed to adapt to the steep and corrugated roofing material in order to maintain traction. 
This flexibility extends into the upper design that integrates articulation zones and pressuredispersion panels to ease the pressure across the entire lateral boarder of the foot forcomfort when working on pitched roofs.
The Pitch is light weight and easy to walk in making it also suitable for slippery environments in warehousing and light industrial workplaces.
MACK BOOTS
Ph: 1300 350 216