NEW PROTOBLAST MACHINE SAVES TIME AND MONEY
11-04-2015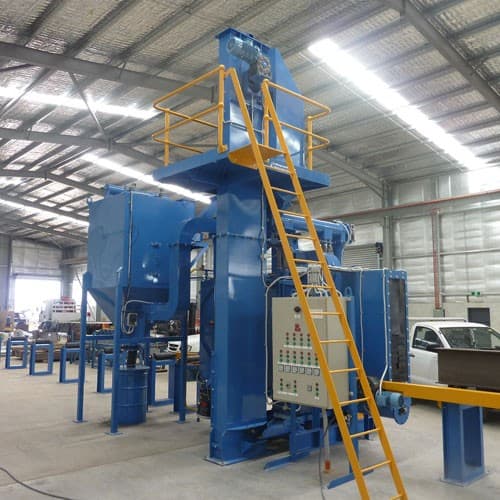 The Section Blast Machine from Protoblast Company, leader in engineered blasting systems, can increase production and save valuable time.
The automatic Section Blast Machine is designed to blast steel sections before fabrication. It can operate independently or as an integral part of a beam line system.
Protoblast Company customers have reported up to an 18 percent increase in production times when steel is processed through the Section Blast Machine.
Pre-cleaned steel gives workers cleaner steel to work with, reducing fabrication times and reducing the preparation time for coating at the end of the process.
The Protoblast Section Blast machine has a 350mm wide opening and is 1200mm high.
It comes with powered roller conveyers on the exit and entry, which are variable speed controlled giving infinite control over the blast profile.
The Protoblast Section Blast Machine will blast large beams to class 2.5 at a rate of 1m per minute.
Greater speeds are achieved at less grades, depending on the specified class of blast required.
Users have peace of mind with these machines as they are Australian built and very reliable.
Service is just a phone call away and wear parts are readily available.
As an added saving, Protoblast currently has a fully rebuilt Section Blast Machine in stock at a reduced price.
But be quick as this machine is not expected to be there much longer.
Established in 1976, the Australian-owned and operated Protoblast Company is a leading manufacturer of abrasive blasting equipment.
Protoblast Company
1800 772 320
www.protoblast.com.au