New Premium Chip Vac makes cleaning easy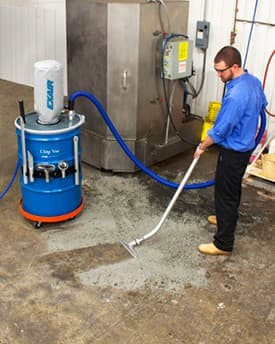 Easy does it … Exair's Premium Chip Vac system


Exair's new Premium Chip Vac System attaches easily to a 205L (44 gallon) drum ready to use for a wide variety of applications.
The Chip Vac is used to clean chips or other dry materials from fixtures, floors and work surfaces of machining centers, lathes, saws, mills and other industrial equipment.
It can easily be moved from drum to drum to keep different materials separate for recycling.
To prevent material contamination, a poly drum liner can be inserted into the drum.
The Premium Chip Vac is compressed air powered and attaches to any open-top steel, fibre or plastic drum that is in good condition.
It is extremely quiet at 77dBA, making it suitable for most applications. There are no motors or impellers to clog or wear out – and it is covered by a five-year warranty.
Available from Compressed Air Australia, the Premium Chip Vac System comes complete with a Chip Vac, lever lock drum lid, shutoff valve, 0.1 micron filter bag, 3m (10') flexible static resistant vacuum hose (1-1/2" /38mm ID), heavy duty aluminium tools, 6.1m (20') air hose, drum dolly, tool holder and quick connect fittings.  

Compressed Air Australia Pty Ltd
Ph: 1300 787 688
www.caasafety.com.au