New pollution laws: don't be caught out
31-08-2010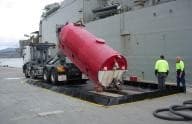 The Protection of the Environment Operations Act was amended earlier this year requiring businesses to develop, implement and test pollution incident response plans for all licensed activities.
The plans must include:
Description and likelihood of hazards
Pre-emptive actions to be taken
Inventory of pollutants
Safety equipment
Communicating with neighbours and the community
Minimising harm to persons on the premises
Actions to be taken during or immediately after a pollution incident
Staff training
A phase in period of six months applies to current license holders but new operations will have to comply before becoming operational.
This new regulation also changes pollution incident notification protocols.
Spill Station, a leading supplier of environment protection products, has a range of products and services to assist in complying with the new regulations.
Contact Spill Station to find out how their spill response solutions can help you.
Spill Station Australia Pty Ltd
Ph: 1300 66 42 66