NEW PINNACLE EYEWEAR OFFERS SAFETY AND ALL-DAY COMFORT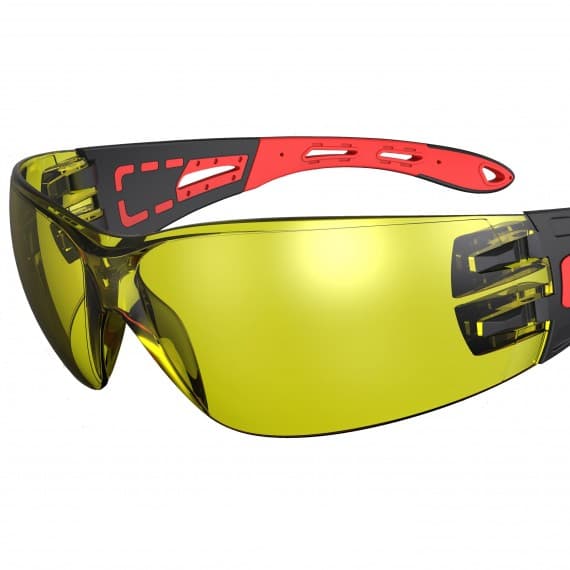 Tough new Pinnacle protective eyewear from Honeywell blends all-day comfort and exceptional protection in a stylish range of 100% dielectric safety glasses.
The Honeywell Pinnacle range features a versatile combined anti fog/hard coat lens coating that can cope with a wide range of the most demanding conditions.
Honeywell Pinnacle safety glasses have been designed with the worker in mind to provide exceptional comfort and protection.
The lightweight design (just over 30g) and the soft temple pads reduce pressure on the head providing an excellent fit.
More comfortable eye protection is also more effective eye protection – improved comfort means improved PPE compliance rates.
The Honeywell Pinnacle range features Honeywell's permanently bonded combined lens coating, so that the polycarbonate lens of every pair of Pinnacle safety glasses feature both an anti-fog coating and a hard coat coating.
This means excellent clarity of vision, even in humid working environments.
It also means that scratches are less likely to compromise visual acuity over time in workplaces where abrasive materials can potentially contact the glasses, extending lens life.
Also, because the Honeywell Pinnacle range contains no metal parts and is 100% dielectric, the safety glasses are suitable for work environments where accidental exposure to electrical charge is possible. This makes the Pinnacle range ideal for energy industries.
Both a clear lens (blocking 10% of visible light) and a grey lens (blocking 85% of visible light) are available for Honeywell Pinnacle protective glasses.
Whether you're working indoors or outdoors, there's a Pinnacle lens to suit. And all Honeywell Pinnacle safety glasses block over 99.9% of UV radiation up to 385nm.
The Honeywell Pinnacle range is approved by SAI Global as complying with Australian and New Zealand Standard AS/NZS 1337.1:2010 for medium impact protection.
The wide aspect of the lens on the glasses also provides greater protection than a narrower lens – the broad coverage of Honeywell Pinnacle eye protection is engineered for optimum safety.
For more information: http://www.honeywellsafety.com/AU/Home.aspx
Honeywell Safety Products
Ph: 1300 139 166